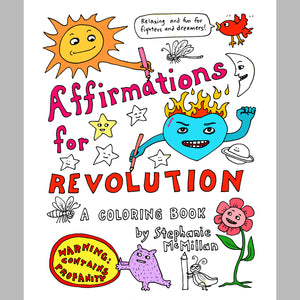 Affirmations for Revolution Coloring Book (digital version)
Regular price
$0.00
$0.00
Unit price
per
For instant download (no checkout) of a pdf file, click here:
First Edition 2021, 23 total pages (18 coloring pages), full color
Experience the simple joy of coloring scenes of the exploited and oppressed rising up to overcome the omnicidal capitalist/imperialist system.
These 18 positive images of working class-led, biocentric revolution are drawn with humor, affection and cuteness. Contemplating while coloring them can bring us together in hope during this miserable historical epoch, and encourage us in our common struggle for a sustainable way of life free of class divisions.
A print version is available here.