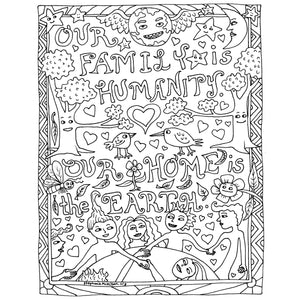 Home & Family (print it yourself)
Regular price
$0.00
$0.00
Unit price
per
For instant download (no checkout) click here:
Info: 
This is a FREE DIGITAL DOWNLOAD for you to print yourself at the link above. It is a pdf file sized for regular letter-size (8.5″x11″) paper or cardstock.
Commentary:

Our family is humanity; our home is the Earth. Actually we can widen that perspective to consider all living beings as our family. But AT LEAST we can refuse to accept the hatreds that are stirred up among the people by ruling class forces. May our love for our fellow humans help us come together to eliminate the entire system of class division that perpetuates all the horrors of imperialism, sexism, racism, nationalism and the many other ways the people are pitted against each other. Let's come together to save our common home, our planet.  Collectively we can defeat capitalism/imperialism and build a classless and ecocentric society.
Creative Commons license:
Permission is given for any personal individual and/or grassroots (non-institutional) collective use, as long as you don't alter it in any way, misrepresent its origins, sell it, or make money from it.