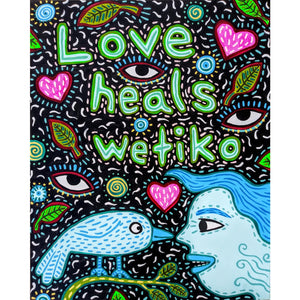 Love Heals Wetiko (print it yourself)
Regular price
$0.00
$0.00
Unit price
per
For instant download (no checkout) click here:
Info: 
This is a FREE DIGITAL DOWNLOAD for you to print yourself at the link above. It is a jpg file sized for up to ledger-size (11"x17″) paper or cardstock.
Commentary:
Wetiko is a Cree word for, to put it much too simply, embodied greed, an unchecked cannibal psychosis. It is Windigo in Ojibwe, Wintiko in Powhatan. For depth, please see writings by Jack D. Forbes, Robin Wall Kimmerer and others.
"Love Heals Wetiko." By that I don't mean we can cure every capitalist with a hug. Other means are necessary to stop exploitation and oppression. What I do mean is that if we base our world views, liberation strategies, and evolving ways of life on love and respect for humanity and all living beings, including the planet themself, then we may succeed in defending, emancipating and healing ourselves from the nightmare of global Wetiko.
Creative Commons license:
Permission is given for any personal individual and/or grassroots (non-institutional) collective use, as long as you don't alter it in any way, misrepresent its origins, sell it, or make money from it.