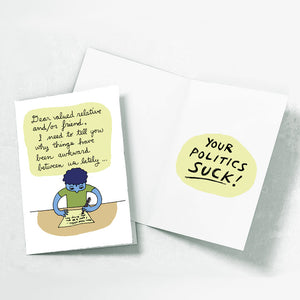 card
Dear Valued Relative and/or Friend
Regular price
$6.00
$0.00
Unit price
per
This card is 4.25″x5.5″. On the front it says: "Dear valued relative and/or friend, I need to tell you why things have been awkward between us lately...". On the inside it says: "Your politics SUCK!"

This card is printed on matte archival card stock. It comes with a white peel-and-seal envelope. 
You can choose to have them both contained in a protective cellophane pouch, or not. The pouch is useful if you plan to display or give the card as a gift; otherwise it's not necessary.
Image is based on original art by Stephanie McMillan.
Free shipping in US. For other destinations, see "Shipping & Returns" link below.