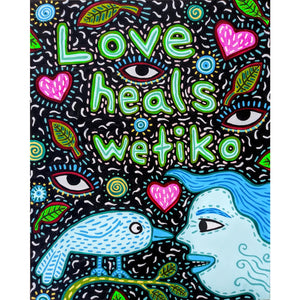 Love Heals Wetiko
Regular price
$320.00
$0.00
Unit price
per
SOLD
Commentary:
Wetiko is a Cree word for, to put it much too simply, embodied greed, an unchecked cannibal psychosis. It is Windigo in Ojibwe, Wintiko in Powhatan. For depth, please see writings by Jack D. Forbes, Robin Wall Kimmerer and others.
"Love Heals Wetiko." By that I don't mean we can cure every capitalist with a hug. Other means are necessary to stop exploitation and oppression. What I do mean is that if we base our world views, liberation strategies, and evolving ways of life on love and respect for humanity and all living beings, including the planet themself, then we may succeed in defending, emancipating and healing ourselves from the nightmare of global Wetiko.
Info:
Acrylic paint on gallery-wrapped canvas (sides painted), 16"x20"
Free shipping in US. For other destinations, see "Shipping & Returns" link below.