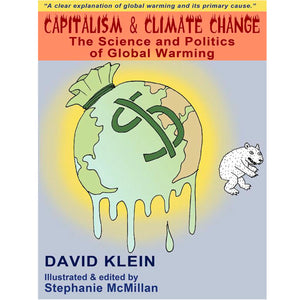 Capitalism and Climate Change (digital version)
Regular price
$0.00
$0.00
Unit price
per
Written by David Klein, California State University Northridge
Edited & illustrated by Stephanie McMillan
This is a FREE DIGITAL DOWNLOAD for you to print yourself.
There are two files to choose from: the smaller one is faster to download, but a couple of the charts are blurry. For best quality, please choose the larger one.
For instant download (no checkout) click here:
ABOUT THE BOOK:
"Exciting, clear, and informative"
–Evan Randles, Cornell University Ph.D. candidate
"This book can be of great use as an introduction and in schools"
– Harry Hellenbrand, Provost, California State University, Northridge
The climate crisis is the greatest threat humanity has ever faced.  Climate change threatens not only global civilization, but the very survival of our species and many others. The first part of this book gives a lucid explanation of the science of global warming and climate change.  Drawing on a wide range of scientific findings, with specific references, Professor David Klein presents stark scenarios for the future.  Part 1 ends by explaining that technological solutions already exist, and the only barriers to implementation are political.
The second part of the book clarifies and illuminates the role of capitalism in creating and perpetuating the climate crisis and related dangers. Clear evidence and compelling arguments are presented to demonstrate the impossibility of adequately addressing the climate crisis within the framework of capitalism.
The exposition is interspersed throughout with artwork by Stephanie McMillan.  Her cartoons and illustrations clarify and condense the main ideas, and they add counterbalance and humor to the surrounding text.  The book ends with a call to action together with guidelines to begin organizing for the overthrow of capitalism.
We hope that people will not only read it, but also use it as an organizing tool. It is offered with a Creative Commons license, so it can be shared freely and widely, and at a price that you choose.

For more information: 
David Klein:
dklein8@gmail.com