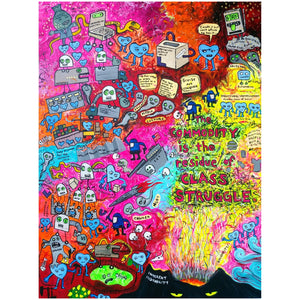 print
Commodity (a greatly simplified and incomplete diagram)
Regular price
$20.00
$0.00
Unit price
per
Artist Commentary:
My goal with this painting is to show (even in a super-simplified and limited way that is hopefully understandable without being simplistic) the social relations embedded in commodity production. It indicates both the relationships between classes (that are comprised of individuals but not reducible to collections of individua

ls), and the motion of the commodity from resource extraction (at the base) all the way to consumption (at the top), while centering the moment of production/surplus value appropriation and filling in some of the superstructural elements of how that is made to happen. This can be viewed as a general model even though each commodity chain has its own specific links. Also included is an indication of the instability of the arrangement, and of the collective agency of class-conscious workers, in order to offer hope and direction for a possible different future.
Info:
Unframed open edition digital reproduction of my original art, printed with bright long-lasting inks on heavyweight matte archival art paper. Signed on the front, with date and location hand-written on the back. 

Paper sizes 5"x7",  8"x10", 11"x14", suitable for standard frames. Prints have white borders of at least 1/2".
Packaged in a cello sleeve with an archival backing board, and shipped in a protective rigid envelope.
Free shipping in US. For other destinations, see "Shipping & Returns" link below.