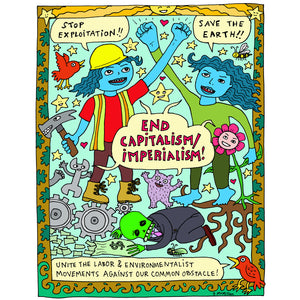 print
Unity
Regular price
$20.00
$0.00
Unit price
per
Commentary:
If we are to prevail against capitalism/imperialism, and open up any possibility of saving our planet, we need to connect environmentalism and the fight of the working class against exploitation. Capitalists set these problems up to be antagonistic by presenting a false choice between jobs and the planet. As if that is a real choice. That's their shitty framework and they want to keep us trapped in that. For us, ending the exploitation of the working class and ending ecocide are all part of the same revolutionary process. We need a world without classes, without domination and oppression, without converting human lives and nature into commodities for the profit of a few. Fuck all that!
Info:
Unframed open edition digital reproduction of my original art, printed with bright long-lasting inks on heavyweight matte archival art paper. Signed on the front, with date and location hand-written on the back. 

Paper sizes 5"x7",  8"x10", 11"x14", suitable for standard frames. Prints have white borders of at least 1/2".
Packaged in a cello sleeve with an archival backing board, and shipped in a protective rigid envelope.
Free shipping in US. For other destinations, see "Shipping & Returns" link below.